Business advisory firms in Dubai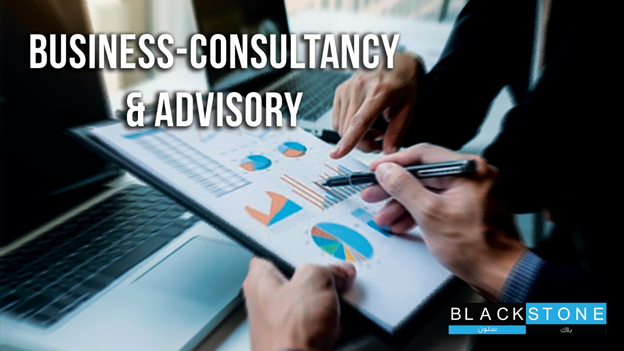 At Black Stone Tax Consultancy we act as Business Advisors, analyze problems and potential risks businesses are facing, and help provide advice to elevate the structure of their finance functions to scale up further with available resources to the business. The major role of a Business Consultants or Advisors is to provide Strategic, Financial, IT & Management Consulting, to help organizations improve their performance and efficiency. These professionals analyze businesses and create solutions while also helping companies meet their goals.
BUSINESS CONSULTING
A part of our business consultancy services, we help businesses improve their performance and grow by solving problems and finding new and better ways of doing things. We guide organizations to help develop their services and, where necessary, reduce costs and make savings. We provide professional or expert advice on different areas of financial planning, cash flow management budgeting, MIS reports. We structure entities to ensure that finance addresses the challenges, opportunities, and weaknesses of the organizations and entrepreneurs using appropriate standards of control, efficient back-office facilities, and support to the businesses through insight and innovative company and financial models. Follow best practices in the industry.
COMPLIANCE AND CONTROL:
Compliance refers adhering to a rule, such as a policy, standard, specification, or law. Regulatory compliance defines the goals companies want to achieve to ensure that they understand and take the necessary steps to comply with policies, relevant laws, and regulations.
We ensure businesses are in absolute compliance with the laws and regulations, they are meeting necessary regulatory requirements, compliance management, adherence to industries, and countries' laws and standards. Internal control procedures and systems. Flexibility in response to future regulatory change.
EFFICIENCY:
Efficiency process begins with comprehensive information collection followed by careful research and analysis. This exercise can be done secretly behind the scenes or directly interacting with employees in your business's day to day operations. We apply strictly research and consulting work, or it can be made more immersive through a hands-on experiential analysis of the flow of work and communication within your company.
Once we do the analysis of the information collected during our research, we then develop and recommend strategies with an aim to increase business's overall efficiency in line with the perimeters set. The strategies you adopt and like to implement can be guided throughout the implementation process. We organize the training sessions as you need for your management team and/or your staff.
In conclusion, one should have a firm believe that everything should be regularly evaluated and measured for success. We use our experience to provide both an assessment of the results of your overall business efficiency analysis and recommendations for improvement. The four major recourse that needs to be taken are:
• Identify and eliminate redundant activities.

• Consolidations of activities and sharing of resources and services

• Standardization and automation of processes to save cost

• Elimination of underperformed resources
PROVIDING INSIGHT AND CHALLENGE:
An organizations insight varies differently in different organizations. It involves delivering a useful performance management framework, understanding the critical business drivers, and challenging and supporting business decisions around these drivers. Equipping finance to provide adequate support on these aspects requires tools and capabilities which are often new to the function.
- Keeping an eye on the details to achieve vision and goals.
- Governance standards need to establish to align finance with the business.
- Align finance with the business to provide significant performance management, challenge mechanism and ensure sustainable growth
- The appropriate balance of controls and that they are not constraining the scale-up of business.
- Vision for finance for rapid business growth.