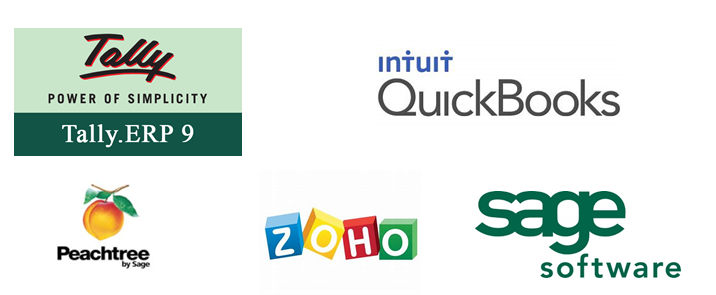 VAT compliant Accounting software in UAE
UAE VAT Compliant Software
Tax accounting software is a useful tool to help businesses keep important and useful accounting records to comply more easily with their tax obligations and record keeping.
The Federal Tax Authority of UAE, in accordance with their published guideline, has awarded the accreditation to the above listed software that comply the three key functionalities, the ability to automatically generate :
1) a standard file known as the FTA Audit File,
2) VAT return file, and
3) Tax invoices and credit/debit notes.
We at Black Stone Tax Consultancy assist our valued customer in selecting the proper accounting software to manage their day to day business operations using the Enterprise Resource Planning software that has capabilities to simplify and manage all aspects of the business, be it accounting, sales and purchase, inventory, manufacturing, taxation, payroll, MIS reporting, and much more. We also provide the Consultancy Services on these Accounting Software Implementation, Customization if required and Support Services.
Salient Features
Maintain day-to-day transactions: Managing your day to day transactions, generating various MIS reports, Cash Flow Statements. The Financial Reports are generated and updated in real time. The Data relating to company and the business transactions are secured and safe with the User access rights and restrictions can be defined.
Stay connected from anywhere: With remote access feature that allows users to access from any remote location. Accessing the data, view existing transactions, pass new transactions, and view all your reports by using the Remote Access feature.
Multiple companies and group company: Multiple Companies can be created as a group company and get a consolidated view of their financial position. Thus, it becomes easy to measure the health of your business across companies. The consolidated data from a group company is useful especially at the end of a financial year, where you can get a summarized view of the total income, profit, and so on.
Comparison Table
| Particulars / Software | Zoho | Quickbooks | Peachtree | Tally | Sage |
| --- | --- | --- | --- | --- | --- |
| FTA Accredition | √ | √ | √ | √ | √ |
| UAE VAT Compliant | √ | √ | √ | √ | √ |
| Accounting Features | √ | √ | √ | √ | √ |
| Inventory Module | √ | √ | √ | √ | √ |
| Payroll | √ | √ | √ | √ | √ |
| HR | √ | √ | √ | √ | √ |
| Customisation | Yes | Yes | Yes | Yes | Yes |
| Deployment | Web-Based & Cloud | Web-Based & Cloud | Web-Based & Cloud | On Premise | Web-Based & Cloud |
| Multi Currency | Yes | Yes | Yes | Yes | Yes |
| Technical Support | Support on Phone, Email and Chat | Support on Phone, Email and Chat | Support on Phone, Email and Chat | Support on Phone, Email and Chat | Support on Phone, Email and Chat |
| Platform | Desktop, Mobile & Cloud | Desktop, Mobile & Cloud | Desktop, Mobile & Cloud | Desktop, Mobile & Cloud | Desktop, Mobile & Cloud |
| Target User | SME | SME | SME | SME | SME |