ISO Certification in UAE, Quality Certification services in Dubai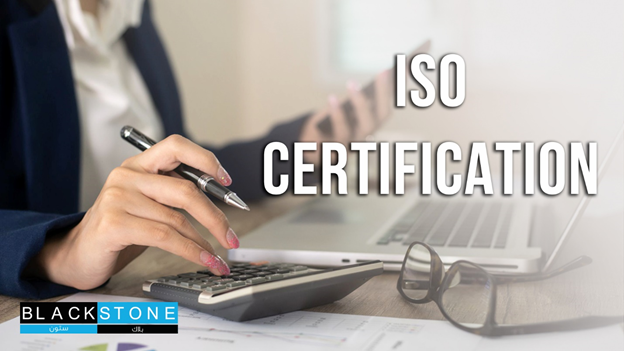 Black Stone Tax Consultancy is a well-known ISO Certification Consultants in UAE and Quality Certification in Dubai, UAE. We offers a comprehensive suite of Consulting, Training and Implementation services across organizations in the emirates of UAE.
At ISO, we develop International Standards, such as ISO 9001 and ISO 14001, but we are not involved in their certification and do not issue certificates. This is performed by external certification bodies.
Having an ISO certification is important for SMMs because of its ability to enact growth, profitability, and cost savings. The benefit of reducing waste also allows your workforce to be more efficient and establish ongoing QMS standards for improvement and sustainable customer success.
Our ISO certification solutions are deemed to be the ultimate in terms of:
Efficient Service Delivery

Best Certification Approach

Speedy and Timely Completion



We work with all the leading ISO certification bodies across the world, to facilitate your organization in getting certified from the certification body of your preference. We provide certification services in standards such as ISO 9001 QMS, ISO 14001 EMS, ISO 45001 OHSMS, ISO 27001 ISMS, ISO 22000 FSMS, ISO 50001 EnMS, HACCP, GMP. Integrated ISO Certification along with other management system standards.
ISO certification services adds value to the overall effectiveness of your ISO management system and promoting your sustainable competitive advantage. We not only assure you an ISO certification, but also the achievement of a management system for your business to discover its true potential in improving processes and performance. We cater to ISO certification services for a wide variety of industries in UAE across all 7 emirates including Abu Dhabi, Dubai, Sharjah, Ajman, Umm al-Quwain, Ras al-Khaimah and Fujairah.
ISO Certification Cost in UAE is dependent on various parameters. the Complexity of business operations and the employee size of the organization have a significant impact on deciding the cost of ISO Certification in UAE.
Another key factor that determines the Cost of ISO Certification in the UAE is the Certification Body that issues the ISO Certification. There are various renowned Certification Bodies accredited by ISO and various independent and Government bodies of Standardization. Depending on the region & organization the Certification Body is accredited with, the Cost of ISO Certification varies.
Lastly, the audit time requirements, no of people to be offered the training, additional overhead costs, auditing expense, certification printing, process implementation expenses, etc., adds up to the overall cost depending on the scope of the projects as well as the desired ISO Certification the organization requires.